In the News...

October 2015, NC State Fair:
1st Place and Best in Show: Strawberry Jam
2nd Place: Raspberry Jam
3rd Place: Blackberry Jelly
Honorable Mention: Peach Jam


October 2014, NC State Fair:
1st Place: Strawberry Jam

June 2010:
Congratulations to Elaine Hart!
She won 1st place in the Slaw, Salads, and Sides competition at the 2010 Hillsborough Hog Days.
Elaine's winning slaw contained Hurtgen Meadows' cabbage and carrots.


May 2010:
Duke Farmers' Market celebrates 10 years.
Tom enjoys seeing and selling vegetables to former colleagues.

April 2010:
Tom and the Duke Blue Devil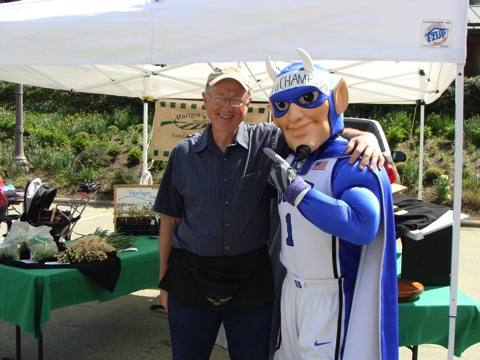 Tom and the Duke Blue Devil stressing the importance of good nutrition and exercise just prior to the Duke employee/American Heart Association walk.



April 2010:
Lisa highlights the importance of buying local and knowing your farmer in the "Fresh Starts" event press release article.